2017 Honda Accord: safety and comfort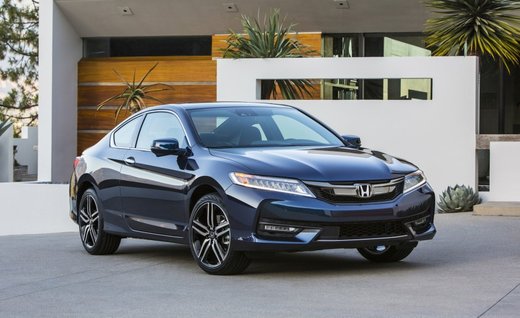 The Honda Accord has long been one of the most popular models in the midsize sedan car segment. Reliable, fuel-efficient, spacious, comfortable, fast when you need it to be and technology-packed, the Accord is also available in several versions to meet the needs of the majority of consumers.
Several versions for the 2017 Honda Accord in Surrey, British Columbia
Available in both sedan and two-door coupe models, the Honda Accord can be both spacious and versatile, or sporty with an aggressive design. On the road and no matter the version, however, it proves to be a great touring car with impressive comfort and a very quiet cabin.
On a winding road, it will still offer its owner plenty of fun with direct handling and impressive agility. No question about it, the Accord is well-balanced midsize sedan that will be able to meet the needs of several types of buyers.
Powerful and efficient engines in the 2017 Honda Accord in Surrey, British Columbia
The Honda Accord sedan starts at $24,590 and is powered by a 2.4-liter four-cylinder engine developing 185 horsepower and 181 lb.-ft. of torque. In the Sport version, the same engine's power increases to 189 horsepower and 182 lb-ft of torque while a 3.5-liter V6 is also offered. The latter is paired with a standard six-speed automatic transmission and develops 278 horsepower and 252 pound-feet of torque.
The 2.4-liter four-cylinder is combined with an automatic continuously variable transmission, but buyers can also opt for a six-speed manual transmission that is also available on some versions and that will appeal to those who like to have absolute control over the performance of the engine. The Coupe version receives the same engines and can even combine the manual transmission and the V6 engine.
In any case, the Accord is fuel-efficient, with an average fuel consumption rating of 7.8 liters per 100 kilometers with the automatic continuously variable transmission.
That said, buyers who want a truly fuel-efficient car can turn to the Honda Accord Hybrid which is offered starting at $ 31,200. The latter is powered by a 212-horsepower hybrid engine that features an average fuel consumption rating of 5.0 liters per 100 kilometers.
The 2017 Accord also packs a host of passive and active safety features as well as all the technological goodies you could ever want in a midsize sedan. To learn more about the all-new 2017 Honda Accord, contact us today at Surrey Honda!