Honda puts safety first with Honda Sensing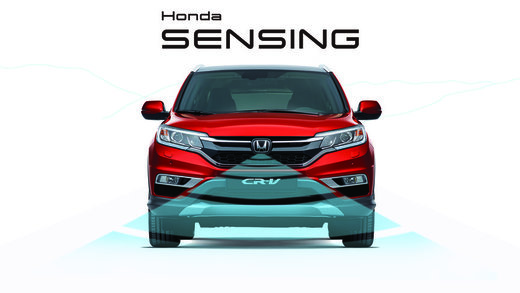 Honda has made safety one of its top priorities over the last few years, developing numerous technologies that are designed to keep you and your family safe by either protecting you when an accident happens, or avoiding entirely. Thanks to Honda's Honda Sensing suite of active safety technologies, you are more protected than ever behind the wheel of your Honda vehicle.
By bringing together a variety of driver assistance systems, Honda Sensing can detect a potential danger out on the road, notify the driver, and intervene if he or she fails to react.
Honda Sensing: putting technology to work to improve safety
To do this, Honda Sensing uses innovative technologies such as forward collision warning, lane departure warning, lane departure prevention, automatic braking and adaptive cruise control.
With the Honda Sensing package, Honda vehicles will break to avoid a collision if the driver fails to react. Audible and visual warnings will first be sent to the driver if an imminent impact is detected, but if no action is taken to the collision, Honda Sensing will take over.
With such an array of systems to watch over you and your family, Honda Sensing undeniably improves the safety of not only Honda vehicles, but other cars out on the road as well.
Already, the Insurance Institute for Highway Safety (IIHS) has recognized the virtues of Honda Sensing by awarding a Top Safety Pick + rating to several Honda models equipped with the technology. The Honda Accord, the Honda Pilot and the 2017 Honda Ridgeline have all received this award, the highest safety award handed out by the IIHS.
Safety doesn't have to be expensive with Honda Sensing
Contrary to what one might think, the Honda Sensing package is not exclusive to the most expensive versions of Honda products. Driving safety should not depend on the buyer's budget, and Honda has understood that.
Honda Sensing is included in the base or mid-level trims in most, if not all new Honda vehicles. For example, the 2017 CR-V is equipped with Honda Sensing starting at only $ 29,490, while its base price is $ 26,690. The same goes for the popular Honda Civic, where the Honda Sensing technology package is available starting at $ 21,590.
On the road, nothing is more important than your safety and those of your loved ones. If you want to know more about the virtues of Honda Sensing, come in today to Honda Surrey and see one of our new vehicle sales representatives. We are here for you!