It's coming: here is the 2017 Honda Civic Type R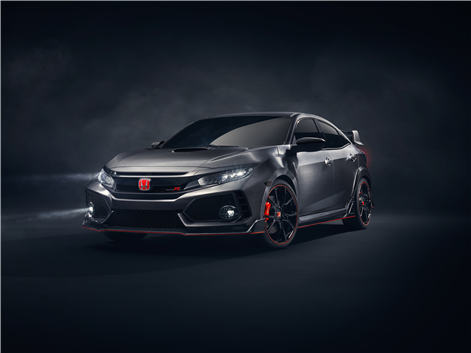 After waiting patiently for years, performance car enthusiasts who could only dream from afar about the Honda Civic Type R will finally have the chance to get behind the wheel of Honda's flagship car. Unveiled as a concept at the Paris Motor Show last September, the production version of the new 2017 Civic Type R was presented a few weeks ago at the Geneva International Auto Show.
A 306 hp engine for the 2017 Honda Civic Type R
Under the hood of the new 2017 Honda Civic Type R can be found a powerful 2.0-liter, turbocharged four-cylinder engine that develops 306 horsepower and 295 lb.-ft. of torque. This engine will be paired exclusively with a six-speed manual transmission and will provide a rev matching system to ensure high-level performance, especially on the track.
That said, the 2017 Honda Civic Type R is a car that was designed as much for the road as for the track. With the maximum torque being available between 2,500 rpm and 4,500 rpm, Honda Civic Type R owners will always have ample power under their right foot in any situation. In addition, the gearbox benefits from a new single mass flywheel that reduces clutch inertia by 25% compared to the previous model offered in Europe.
2017 Honda Civic Type R: a car designed for the track
In addition to its powerful engine, the new Civic Type R benefits from exclusive adjustments for its springs, shock absorbers and bearings, as well as a new two-axle front suspension configuration that's aimed at reducing the torque steer and improving handling.
The Type R's 20-inch wheels will be fitted with ContiSportContact 6 high-performance tires to ensure seamless grip in turns, and Brembo calipers will be tasked with slowing down the car.
Based on the Honda Civic Hatchback, the Type R is a lot stiffer with a 38% increase in torsional rigidity and a 45 % increase in bending rigidity that ensure that the car will not only respond more accurately, but will also be more stable. The Civic Type R is also lighter by about 16 kilograms compared to the Hatchback model.
Three driving modes will be offered: Comfort, Sport and + R. These modes adjust steering and throttle efficiency, modify shock absorber firmness, and change the settings of the manual gearbox to make the new Civic Type R more comfortable or sportier depending on what you want to do at that moment with the car.
The price of the Honda Civic Type R has not yet been announced, but Honda says it will be slightly above $ 40,000. Come and learn more about the new Honda Civic Type R today at Surrey Honda!